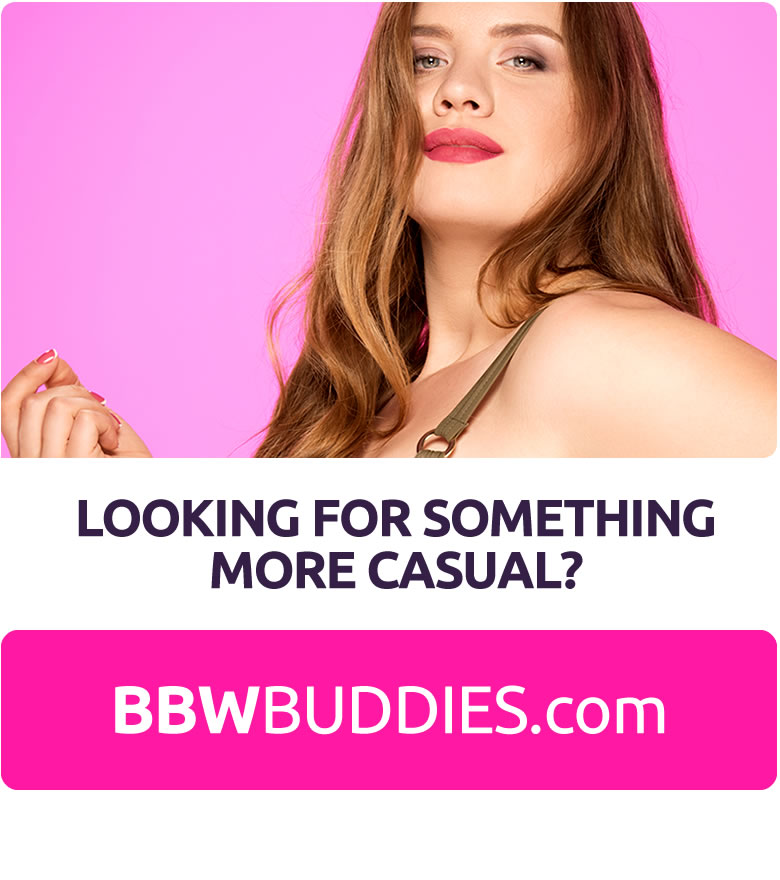 Online dating for body confident singles and admirers of curves
Find plus size singles with the number one dating site exclusively for curvy men and women. If you are seeking a meaningful relationship and are either fuller figured yourself or attracted to people of a fuller figure, you have arrived at your destination. Beautifully Bigger is all about curves, cuddles and confidence.
Meet plus size women looking for love
If you are a man who adores curves, confidence or big women, we make it easy to meet local women who fit your ideal 'type'. Our members are from a range of backgrounds from all over the US. Ranging from smaller women who like big guys to stunning chubby girls who love to flaunt their curves.
Meet your big handsome guy
Find Chubby guys looking for romance or smaller men looking for plus size women. Beautifully Bigger attracts members from all walks of life, each looking for something different.
Be your fabulous self with Beautifully Bigger
For many of our members the thought of outing themselves out there on a dating site next to gym toned guys a pouting selfie queens is a frightening prospect. Do you hide behind an out of date profile photo and risk rejection or being called a fraud? Or do you go 'photo-less'? This is a sure way of throwing you hard earned dollars down the drain. Members without a profile photo receive far less attention than ones with a photo. Even if you think your profile description shows off your startling whit, intelligence and adventurous side, the truth is most potential suitors will simply skip to the next member as soon as they see that you have no photo without even bothering to read any further. This is where Beautifully Bigger comes in. All our members are either fuller figured themselves or looking to date a fuller figured partner, so you can cast aside your body conscious inhibitions, throw up your sassiest selfies and flaunt your fuller figure to your hearts content.
Don't change who you are. Change your dating site
Hopefully you have now decided to give online dating a go with Beautifully Bigger. What now? First you need an account. To claim your free account just enter a few basic details into the signup form above. You do not need to give your full name and your other personal details are never displayed to other members nor do we sell or pass on your details so your personal information is safe with us. Please do not include personally identifiable information such as cell phone number, email, postcode or your full name in your public profile. We provide secure messaging via our encrypted site or and mobile enabled device, so you can communicate with other members safely and anonymously. Once you have registered you will receive your own unique login details via email (please check you are using a valid email address). Once you have these you are ready to go.
The first time you log in the Beautifully Bigger you will be asked a few questions about yourself. You will be asked for your location or zip code and some details about you and the type of person you are looking for. We advise you to complete as much as possible for us to give you the best possible potential matches. You can skip these steps and come back to them later, but we will be unable to give you personalized recommendations and you are unlikely to show up in many other members suggestions or search results. You will also be prompted to complete your profile by writing a bit about yourself and adding a photo. We have included some helpful information here.
Now the fun stuff..
Once you are all set up you can start browsing members or checking out our personalized recommendations. For a fast, fun way of meeting our members, why not try out our yes, no, maybe game? When you find a member who catches your eye, let them know you are interested. The best way is to send them a private message. Keep it light-hearted and friendly. Maybe reference a shared interest or something that caught your eye in their profile so they know you actually read it rather than just sent a load of messages to anyone who has a good looking profile photo. Of course, some members are not so bold when it comes to messaging other members. We've got you covered too. For shy members we have icebreakers and winks so you can let someone know you are interested in chatting. We also have a 'who's viewed me' feature so you can see what members have been checking you out. Maybe they were too shy to make the first move? Maybe you are not so cautious?
You will find our members are friendly and welcoming. If however, you suspect a member is not who they say they are or becomes annoying or abusive, our dedicated support team are on hand to investigate any suspicious behaviour. If you simply don't wish to communicate with a particular member, you can block them with one click. Our free verification process allows users to display a green tick on their profile picture to indicate that their profile has been checked by one of our team and confirmed as authentic for extra peace of mind.
Start today
Why wait any longer. Sign up today and start meeting plus size singles looking for meaningful relationships nearby with Beautifully Bigger, the number one dating website for plus size singles
It's time to put away all your worries about finding a plus-sized partner. Simply sign up with us (it's absolutely free) and you'll be able to browse through thousands of profiles, and to help you, we'll even find personalized recommendations for you.
Give online dating a go today with the number one BBW dating site. Your big handsome man or big beautiful lady could be online right now waiting for your message. Registration is free so you have nothing to lose.